just ride the wave 🏄🏽‍♂️
September 2020
The pandemic was the best thing that ever happened to home goods. Yup, I just said it. In the 6 months following the start of a global pandemic, the entire furniture world has been forced to come to grips with a new reality. The evidence is stark. And the direction of consumer spending habits is pretty much irrefutable. Here's what we've learned:
With furniture stores forced to shutter, home and furniture shopping migrated from brick-and-mortar to digital.

New online customers realize how seamless it is to shop online. And they're not going back to how they used to shop.

Merchants who were early adopters have been able to ride the wave and grab market share.

Online furniture retailers like Wayfair, Houzz, Overstock are the future.

Commerce enablers like BigCommerce, Shopify, and Lightspeed are insanely powerful - for every vertical.
The future of retail was forced to show up earlier than expected, but what happens as the offline retail world opens back up again?
---
The ticker: Very relevant reads 🔥🔥🔥
---
CommerceBear named one of Canada's most innovative tech companies 🚀🚀🚀 We are beyond humbled to be included in this year's CIX Top 20 list, alongside other category defining companies and CIX alumni like Shopify, Nulogy, Wealthsimple, Clearbanc, to name a few. You can check out the full release here.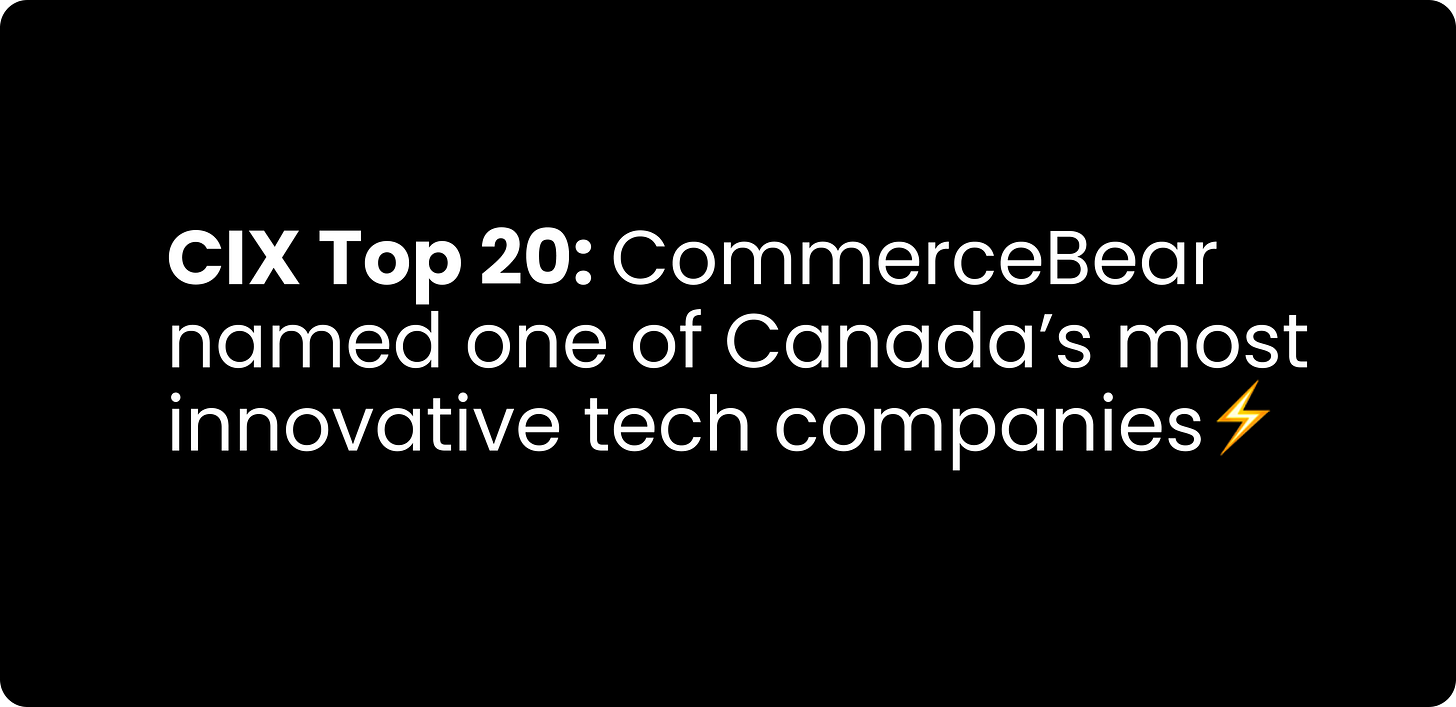 Ps. I'll be speaking at the CIX Summit on Oct 19/20 next month alongside other tech founders, leading VCs, and our very own Board Chairman

Howard Lis.

S

end me a DM for more.
---
You could have made a lot of $$$ in online furniture. If you invested $10K in Overstock.com on March 19th, you would have $182.6K right now, just 6 months later. Insane stuff to be honest.
---
A leading California based furniture manufacturer built a powerful online channel with Bear. It's a compelling story about how they built a scalable and dependable ecomm revenue stream after 40+ years in the industry. Read their story here (3min).

*Disclaimer: although it's my newsletter and I can do what I want, this is

not

meant as a pitch, but educational.
---
Snowflake just had the largest software IPO ever, valuing the company at $33B. What's crazy is how much money one of their earliest investors made today 👀 Sutter Hill Ventures (Palo Alto, CA) led Snowflake's $5M Series A in 2012. Their 50K shares are now worth $12B. Just think about that for a second. To read more about how this low-profile investor pulled it off, check out this story (4min read).
---
If you like what you saw, join the recliner email club to stay up to date with all this kind of stuff, every month. I also always choose one lucky subscriber and give them a $45 Snackmagic box to enjoy 🎉

*Add me on LinkedIn as I would love to see what you are up to.
As always, be excellent to each other.
Sam Vlessing
Founder & CEO | CommerceBear