ecomm is crushing it, wow 💰📦
May 2020
The internet is the best place on earth right now. Stick with me here because I know that sounds crazy. With retailers closed coast-to-coast and literally nothing else to do, people are buying boatloads of furniture from their iPhones while in the comfort of their couches. This is our best newsletter ever. Buckle up.

Stock prices on March 19th:
Wayfair.com (NYSE: W): $23.52
Overstock.com (NASDAQ: OSTK): $3.99
Amazon.com (NASDAQ: AMZN): $1,880.93

The landscape today:
Wayfair.com (NYSE: W): $124.04
Overstock.com (NASDAQ: OSTK): $12.62
Amazon.com (NASDAQ: AMZN): $2,474.00 

If you invested $1K into each of these online retailers (the price of a nice leather recliner) prior to 20% of Americans losing their jobs due to the biggest global pandemic of all time, it would be worth $10K today.People at home looking at their boring old furniture all day = good for ecomm, and even better for people who sell sofas and tables on the internet.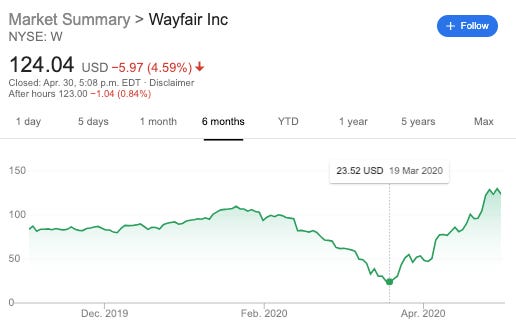 What I'm understanding is that the impacts of COVID-19 haven't really changed human behavior, it's just forced the adoption of things that would have naturally occurred over a longer timeline anyway. Online sales of home goods is just a great example of what happens when a massive catalyst is applied to an entire industry. 
---
Curious about what furniture companies are doing right now?
We're teaming up with the CEOs of Furniture Classics and Kensington Furniture for a live panel on May 6th, 3PM EST. Watch it for free by signing up here—you don't want to miss this 💪🏻💪🏻💪🏻
---
The ticker: Very relevant reads 🔥🔥🔥
All the PPP money is NOT going to the right places
The Small Business Administration allocated ~$700B for SMBs navigating the current health/economic climate. Here's where it all went wrong, leaving me and the rest of America completely perplexed:

Thousands and thousands of small business owners, who have waited weeks for federal loans to rescue them from the brink of bankruptcy, were told that the Paycheck Protection Program had run of out money. Sorry. Tough luck, I guess?

But... that's not even the insane part. Major corporations like the NBA's Los Angeles Lakers (worth $4B) and Shake Shack (NYSE: SHAK) did get money. Millions and millions of money. They returned the funds promptly - the right PR move for sure, but overall, big yikes 😬
---
Breakdown: Great product listings on Overstock.com 💰💰💰
In order to drive online revenue and maximize visibility, products need exceptional data, live inventory, and competitive pricing. We've automated the entire process. The end result? Incredible listings — just check out this product a West Coast brand recently published through Bear. How are you driving GMV $$$?
---
Buying the wrong ZOOM on the stock market
We all know Zoom, the video communications company that exploded from 10M to 200M users in just over 30 days. Well, their stock is up around 100% - which isn't unexpected. Stock market ticker: ZM. Here's where it gets wild...

If you accidentally invested in Zoom Technologies (Ticker: ZOOM), an obscure biz that makes cell phone components, you could be up 1800%. A bunch of people who apparently couldn't bother to do their due diligence bought the wrong company's stock, causing the shares in the "fake" Zoom company to go bananas.

The SEC, which regulates stock markets, had to get involved and suspend trading. Wow.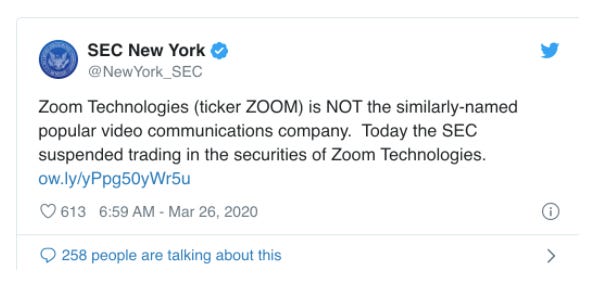 ---
Have you checked out the Bear blog yet? Here's everything you need to know in under 1min.

If there's anything I can do to help you or your business at this time, please let me know. Stay safe and healthy out here. As always, be excellent to each other.

Sam Vlessing
Founder & CEO | CommerceBear