10K to 100K, real quick 🔥
July 2020
You could have made a fortune in online furniture. If you invested $10,000 in the online furniture company Overstock.com at the beginning of COVID - right before 40 million people lost their jobs and a global pandemic shut down the world in March - it would have been $100,000 just 3 months later. Not only has everything ecomm been crushing it, the massive shift in the selling environment has helped many home goods brands turn online $GMV into a very, very sizable part of their biz.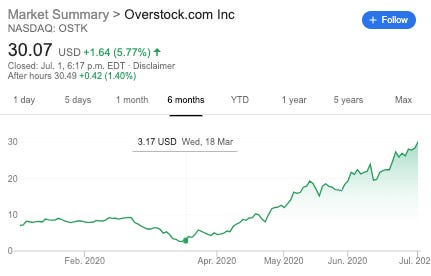 Overstock isn't the only one having a good time. If you invested the same $10K in these companies pre-COVID, here's what it would be worth right now: Amazon (Nasdaq: AMZN), $16.3K and Shopify (NYSE: SHOP), $28.2K.
---
The ticker: Very relevant reads 🔥🔥🔥
Wayfair.com is also having a lot of fun lately. Yes, they spend $1B on ads each year and they're still on route to profitability, but the growth here speaks volumes. Big volumes.

Wayfair US sales:
Q1 2019 - $1.94B
Q1 2020 - $2.33B (+19.8%)

This is massive! And no signs of slowing.
---
Creating a flywheel is easy, if you pull the right levers. It all starts with incredible, super-duper, crazy optimized product data. For example, the avg Wayfair product listing requires 300+ data points (this is similar for other top channels). Most SMBs only have ~30 data points in their own internal systems, if they're lucky. Here is why good data and ecomm focused content matters:
Deploying good data = really great & compelling product listings

Great listings will help you show up in searches

Once you're found, eyeballs looking at your listings will digest super-duper data & content

Finally, this helps transact your listings, leading to 💰
To see what this looks like in practice check out this live listing we created.
*FYI, there's a lot more to the flywheel than simply setting and forgetting really good listings. There's a bunch of other key things you ought to be doing, like inventory via API, review capture, unpaid/paid ads, etc.
---
The online retail & marketplace landscape is complicated. So we built a simple Google Sheet to help companies understand how each platform works. Check it out. It's totally free.
---
5 bad reviews are better than none at all. The complex algorithms that help determine how a product trends on Wayfair, Overstock, Amazon, and others takes reviews into account. SKUs with 5 reviews see a 30%+ increase in conversion when compared to items with 0 reviews.

In fact, a handful of subpar reviews is more useful than none at all. If you're not employing review capture programs to drive $GMV to new listings or under performing products, you need to chat with me right now about doing this.
---
Don't forget to subscribe to our recliner email club to stay up to date with all the things you need to know, every month. Also, we choose a lucky subscriber every month and give them an Amazon gift card 💰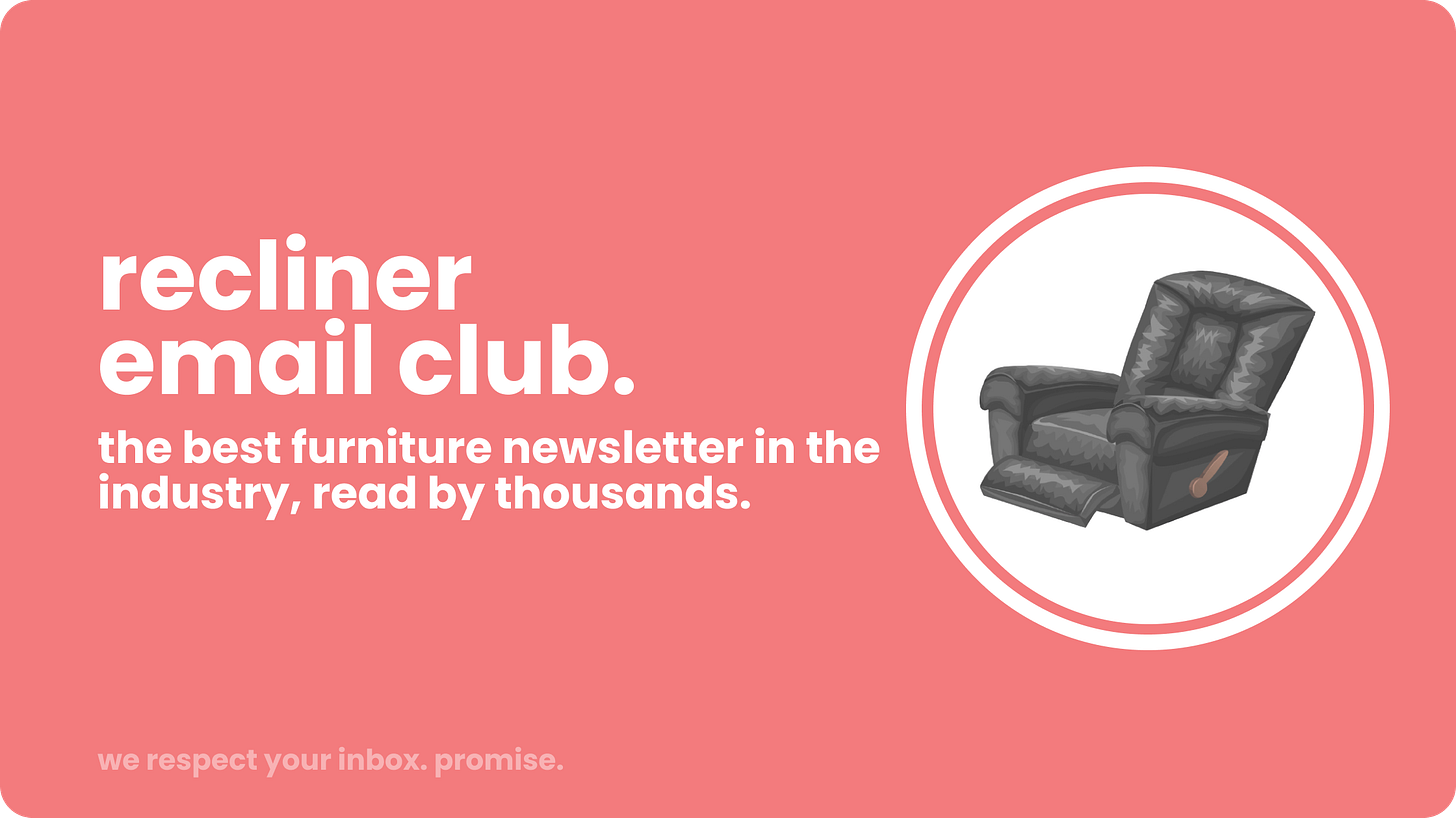 Happy 4th and Canada Day everyone!

Sam Vlessing
Founder & CEO | CommerceBear